MODEL SIMPLY
This model is equipped with a structure with a sloping roof to a roof. It has a single compartment with 2 distinct dispensing points for natural and sparkling chilled water.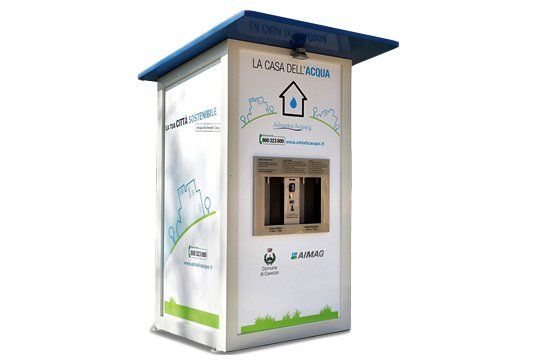 Technical features of the Simply model
Base Structure: 1.32 x 1.28 meters for a maximum height of 2.6 meters.
All technological facilities for the production of smooth and comast-carbon water comply with the D.M. No.174 of April 6, 2004 and meet the requirements of D.M. 25 of February 7, 2012.
Gas boiler fridge with 200 litres/h refrigerated water production capacity.
It is the front for the supply of smooth and carbonated water refrigerated to two AISI 304 stainless steel compartments, with electronic controls, volumetric anchoring system.
System for the management of paid disbursement:
Eurokey Key – RFID Card – Multi-Currency Reader
Creative concept:
The graphic customization includes 2 renderings with graphic evidence, realization and installation of UV-protected vinyl film, guaranteed 5 years.
Our customizable gadgets: labelled glass bottles, TNT carriers for glass bottles, 500ml bottles. PE and steel bottles and 500ml BPA free cap.
The Communication on Environmental Savings
The 32″ LED screen placed inside the House of Water, protected by anti-breakthrough glass, will give the opportunity to disseminate images and/or videos on the production of drinking water, the water quality of the territory and controls, as well as a series of data for environmental savings.
It includes customization with the logo of the municipality and two spaces – front and back – for advertising posters of 70 x 100 cm.
Advantages of our Technostructures
THE WATER HOUSE FOR A SUSTAINABLE CITY:
Lower construction costs than any building solution.
Extremely short of construction, assembly and installation time.
Reversibility and re-position ability of the structure.
High degree of aesthetic customization with adhesive, UV-resistant skin.
Dedicated graphic study for territorial contextualization.
The property is ISO 22000 certified.